Description
Reduce Fine Lines, Puffiness & Dark Eyes
This 8-pack box of herbal rejuvenating eye masks are made of only the finest quality herbal ingredients. Unlike most other eye mask treatments, this collagen eye mask covers the entire eye and under-eye, not just the under-eye. With just one treatment, your eyes will feel refreshed and collagen revitalized. These are especially useful for those who are heavy computer users, spend a lot of time reading or just don't get enough time for that beauty sleep. Wear a pair of these eye pads each night for just one week and you'll understand why this modern treasure of the orient, using traditional minerals, are in such huge demand. You won't find these anywhere else.
Fine Line & Dark Circle Relief by Herbal Experts
The manufacturers of these silky-smooth, 'good-as-gold' Pretale eye masks, Mayinglong were established in 1582. With a history of over 400 years, it is considered one of China's most famous and time-honored herbal medicine brands, revered around the world.
Based in Shanghai with an IPO listed in the top 500 most valuable Chinese brands, these eye masks are made using a blend of long-established herbal ingredients that have been cultivated over the centuries.
We challenge you to wear a pair each night for just one week. You'll be amazed at the difference and unlike many other eye masks, these won't temporarily puff your skin up for a quick 1 day fix; these are a natural, long-term remedy that when used, will help to keep your eyes fresh and youthful without harming your skin.
All Natural & Herbal Collagen-Boosting Eye Mask Ingredients
Calculus Bovis (Nu Huang)
Place one eye mask gel onto each eye, making sure that the entire eye as well as the under-eye is covered by the eye mask gel. You can keep the eye masks on for as long as they remain moist.
We recommend leaving the mask on for at least 20 minutes each day for the first week and then every 3 days thereafter, if maintenance is required.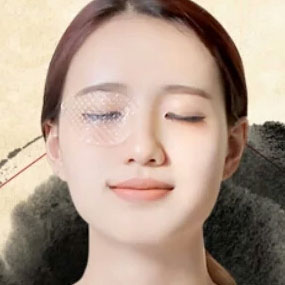 Pro Tip:
Keep the eye masks in your refrigerator and use them cold. This will increase their effectiveness in tightening your skin and refreshing the eyes.
Some people can have allergies to natural herbs; if so, if you feel any irritation after using this product, please seek medical advice from your GP.