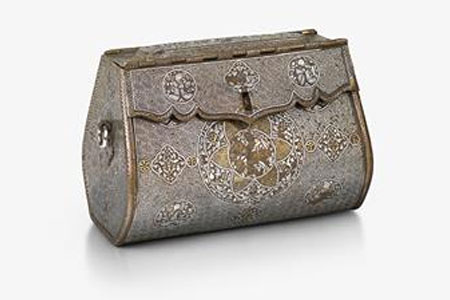 When did the first bag appear in history? As far back as a pouch worn around a person's waist, as depicted by Egyptians in the form of hieroglyphics, people have used handbags. The oldest handbag found to date, is said to have been created in 1300 in northern Iraq. Today, ladies bags mean a handbag, a tote bag, a shoulder bag, a purse bag, a satchel, a clutch bag and so on and so forth. So, don't be left behind. Check out the evolution of ladies bags and become a fashion insider!
Ladies Bags are Used as Status, Gifts and Tools
The 15th century
Ancestors enjoyed showing off as mush as we do. Since then, either a men's or a women's bag has been ornamented with gold to emphasize social status. Ladies bags with embroidered illustrations of the love stories (or perhaps sex secrets) were popular gifts.
16th century
It was an era of fantastic adventures and notorious colonization, and large cloth bags for travelers were introduced.
17th century
While females went crazy to improve embroidery skills on ladies bags, males dropped large bags and turned to embrace small purse bags.
18th century
In the age of Enlightenment, a fur muff was widely used by fashion conscious people to carry money and small items.
19th century
Industrial Revolution and press communication accelerated the spread of fashion. Ladies bags were used to team neo-classical clothing and to show etiquette for different occasions.
Ladies Bags Reflect the Spirit of the Time
Officially speaking, people started to call a bag a 'handbag' since the 20th century. Genius fashion designers have been setting up explosions with ladies bags.
20th century
1920s
Ladies bags no longer had to match an outfit as an accessory, but showed up as the spotlight feature at catwalks to high streets.
1930s
While females increased social activities outside their homes, ladies bags became more structured and capacious.
1940s
Satchel bags were of high visibility. As World War II consumed a lot of metal, alternative fabrics such as wood and plastic were widely used in the production of ladies bags.
1950s
Chanel featured the classic black quilted Chanel 2.55 bag, setting up a perfect model and dominating the world of ladies bags.
1960s
Mixing mod and hippie, ladies bags at this time had a slouchy ethnic look. However, Hermes created the noble Kelly bag for the actress and Princess of Monaco, Grace Kelly, which was another breakthrough in ladies bag records.
1970s
Recession meant people would cherish resource and at the time, patchwork shoulder bags were a sure bet if you wanted to stand out.
1980s
Male's briefcases, the reviving Chanel 2.55 bag and the Hermes Birkin bag for the actress Jane Birkin were all favoured bags allowing one to flaunt success.
1990s
Prada reinterpreted the definition of fashion by introducing the minimalist black nylon handbag, and Tom Ford activated sexiness of ladies bags.
2000s
Ladies bags are more profuse and luxuriant than ever, thanks to brilliant fashion designers such as Alexander McQueen, Balenciaga, Chloe, Dolce&Gabbana, Fendi, Marc Jacobs and Vivienne Westwood. In Japan, Louis Vuitton has almost become the national bag.